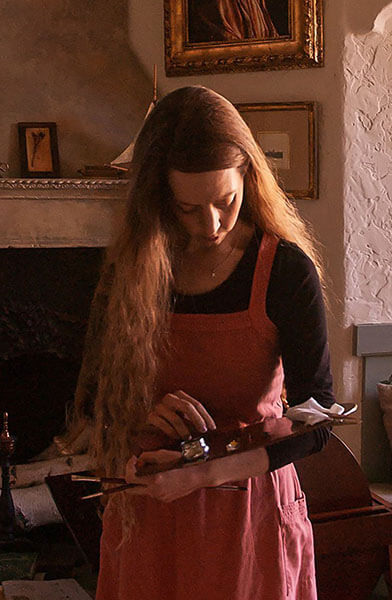 Elspeth C. Young
"My oil paintings seek to celebrate lesser-known heroines and heroes of everyday life
whose courage and devotion evince the deepest reverence for Deity. I endeavor to create paintings
that invite us to look Heavenward in order to solve life's challenges,
to help others in need of help, and to appreciate the majesty of the individual
in all races and cultures."
Specializing in portraiture and
historia
(figure paintings recreating historical scenes), Elspeth has been an Artist of Al Young Studios for 16 years.
She combines facility in watercolor painting and classical drawing techniques to conceptualize each original, handmade oil painting. After months and even years of painstaking research among primary and secondary sources bearing upon the historical context for and the material culture surrounding each subject, Elspeth designs and creates her own costuming and searches out models with whom she can work. Color palettes for her finished paintings derive from her daily observation of color schemes appearing in nature. In the production of each artwork, she utilizes classical techniques of oil painting centering upon her own adaptation of the traditional technique known as
classical alla prima
. Echoing techniques used in richly glazed watercolor, she allows alla prima paint-layers, executed in minute detail, to be further enhanced by repetitive glazing and scumbling that enriches the detail and deeply saturates hues. Elspeth averages six months to one year of brush-work at her easel to create a single
historia
painting.
Elspeth's noncommissioned artworks express her own interests, while commissioned works express the interests of her patrons. She regularly fulfills commissions from The Church of Jesus Christ of Latter-day Saints, and originals and reproductions of her works are permanently displayed in Temples, Museums, and private residences.
Her training includes a lifetime of study and collaboration in the family studio of her father, Al R. Young, as well as a degree in Visual Art from Brigham Young University, from which she graduated Magna Cum Laude in 2003. It was there that she began work on two ongoing projects represented in the commercial portfolio of Al Young Studios: The Women of the Bible Fine Art Collection as well as the Cumorah Fine Art Collection.
Many of Elspeth's artworks are available from the Studios in the following fine art collections:
Heroes of the Book of Mormon Collection
(since 2006)
The High Valley Collection
(since 2004)
The Messiah Collection
(since 2003)
Pioneer Collection
(since 2006)
Temple Fine Art Collection
(since 2012)
The Women of the Bible Collection
(since 2003)
Elspeth also regularly contributes art and writing to
The Storybook Home Journal
, specializing in historical hand-craft recreation, folk music arrangements, and material culture history. She also illustrates her father's writings in
The Papers of Seymore Wainscott
, a fictional story of creative genius, home, family, and endurance set in Colonial America.
Follow Elspeth on Facebook
Follow Elspeth on Twitter