"Hear my prayer, O Lord, and let my cry come unto thee. Hide not thy face from me in the day when I am in trouble; incline thine ear unto me: in the day when I call answer me speedily. For my days are consumed like smoke, and my bones are burned as an hearth. My heart is smitten, and withered like grass...

I watch, and am as a sparrow alone upon the house top.
Psalms 102
The story behind As A Sparrow Alone
Eighteen year-old Drusilla Dorris married James Hendricks in 1828. Seven years later, they were baptized into The Church of Jesus Christ of Latter-day Saints. Drusilla described her feelings at that time as "so rejoiced...I could see fields of light and intelligence....I arose to walk in the newness of life. That fear of death and Hell was all gone from me, and I was a new creature. Such a feeling of calmness pervaded me."

In the autumn of 1838, after a brief season of peace and prosperity, religious persecution in Missouri erupted into mob violence. In the midst of the devastation of burned and trampled crops and murderous attacks by mobsters, neighbor children brought to Drusilla the report that her husband had been shot. "I went to the field to give vent to my feelings...My husband was shot in the neck where it cut off all feeling of the body. It is of no use for me to try and tell how I felt for that is impossible..."

Drusilla nursed her husband as the violence escalated. They were driven from their home and suffered starvation. Despite the crushing physical and emotional burdens that threatened her on every hand, Drusilla did not give up, but trusted in the assurance that whispered to her mind and heart: "Hold on, for the Lord will provide."

This painting is concerned with the ability to hearken to the peace and the whisperings of the Spirit in times of trial. The most succinct statement of the painting's theme is found in the reassurance of the Lord's own words, given not only to those who endured the dreadful persecutions and hardships of the 1830s, but to the faithful of all time, that He will extend His arm and support his people against all the fiery darts of the adversary; and be with them in every time of trouble (Doctrine and Covenants 3:8).

Drusilla's ability to wait upon the Lord did, indeed, renew her strength and the strength of her family (see Isaiah 40:31). Through the power of the Priesthood, her husband was eventually healed of his paralysis, and Drusilla and her family arrived safely in the Salt Lake Valley on October 4, 1847, after completing the 1300-mile trek to the valleys of the Rocky Mountains. The family dwelt in peace there for the remainder of their days.
Symbolism in As A Sparrow Alone
During times of difficulty and discouragement, it is easy to resonate with the Psalmist, who described the feelings of "the afflicted, when he is overwhelmed, and poureth out his complaint before the Lord" (Psalms 102). We feel "consumed," "smitten," "withered," and "as a sparrow alone"--insignificant, isolated, and abandoned. On more than one occasion in Drusilla's life, she was hemmed in by enemies, surrounded by doubts, and overwhelmed with anxieties such as those described in Psalm 102. But in every case, the Lord inspired her heart with the assurance, "Hold on, for the Lord will provide." Such was the voice of the Lord to Joseph Smith during his suffering while unjustly confined and tormented in Liberty Jail: "hold on thy way...for their bounds are set, they cannot pass...fear not what man can do, for God shall be with you forever and ever" (Doctrine and Covenants 122:9). Though solutions do not always immediately appear, the peace and comfort of the Holy Spirit whispers of hope to any who seek and hold fast to the Light in such dark circumstances.

As A Sparrow Alone portrays the moment in which Drusilla pours out her soul in heartfelt anguish, reaching heavenward for strength and assurance as she gave vent to her feelings. The figure's gaze rests upon a handful of house sparrows, foraging among the wreckage left by the mob. Despite the desolation in which she sits and the lowering skies, life is all about her. The sparrows symbolize the worth of a soul in Heaven's sight, the mindfulness of the Lord, and hope for the future. While the Psalmist described feeling "as a sparrow alone," it was the Savior himself who reminded his disciples that despite the seeming insignificance of a sparrow, "one of them shall not fall on the ground without your Father" (Matthew 10:29) for "not one of them is forgotten before God" (Luke 12:6). "Even the very hairs of your head are all numbered. Fear not therefore: ye are of more value than many sparrows" (Luke 12:7).

Source for Drusilla quotations: Hendricks, Drusilla Dorris. The Historical Sketch of James Hendricks and Drusilla Hendricks. MS SC 2409, L. Tom Perry Special Collections, Harold B. Lee Library, Brigham Young University, Provo, Utah.
Copyright and terms of use
© By
Elspeth Young
, All Rights Reserved. You may not print, copy, or reproduce this work or make derivative works from it without the prior written consent of the copyright holder. For permissions, please review our
FAQ page
.
From the Newsroom

Fine Art Framing: Al Young Studios' custom framing services for original artworks and giclees (overview)
By Al R. Young
We have framed our own artworks for more than 25 years, and during that time we have provided a variety of framing services to patrons upon request.  For various reasons--including constant change in the availability of moulding styles--we cannot offer off-the-shelf framing options or response times typically associated with such a service.  Of necessity, all of our framing projects are custom projects that are priced, completed, and billed accordingly.  For example, inasmuch as the Studios does not maintain a selection of off-the-shelf moulding options, moulding styles actually available at the time of a request for information about framing options must be researched... Read more »
Tags: Elspeth's Hollyhocks, North Shore, Nasturtium, Wald Kirche, Old Dominion, Scabiosa, A Boy's Prayer, Foxglove, Moonlit, Waiting, Untitled, Narcissus on beige paper, Narcissus on gray paper, July, The Almira, Columbine, Maine, Final Draft,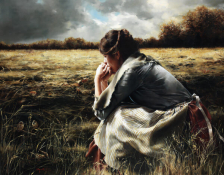 Elspeth C. Young completes new oil painting - "As A Sparrow Alone"
By Al R. Young As A Sparrow Alone is the newest oil painting to be added to the line of original artworks from Al Young Studios.

Click here to see a larger image of the new painting, read the artist's commentary, and look at the selection of prints--if any are available.... Read more »
Tags: As A Sparrow Alone, 2013, Elspeth C. Young, Legacy, News, Oil paintings and prints, Pioneer Art Collection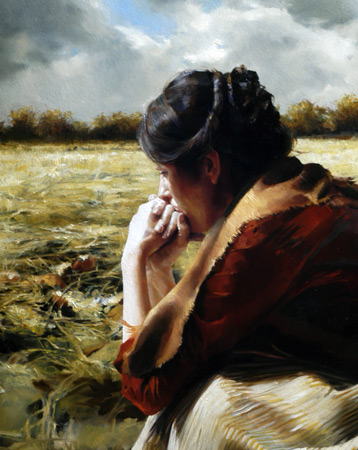 Project Commentaries: As A Sparrow Alone by Elspeth Young
By Al R. Young Since April of 2012, Elspeth has studied the life of Drusilla Dorris Hendricks (1810-1881), western pioneer and wife of James Hendricks.  In August of last year, Elspeth began a painting of Drusilla Hendricks, portraying one of the most anguished moments in Drusilla's courageous life.

In the autumn of 1838, religious persecution in Missouri erupted into mob violence.  In the midst of the devastation of burned and trampled crops and murderous attacks by mobsters, Drusilla recounted that neighbor children brought word that her husband had been shot... Read more »
Tags: As A Sparrow Alone, 2013, Pioneer Art Collection, Project commentaries